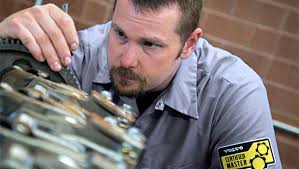 The ongoing success we enjoy at Beaver Truck Centre is a direct result of having the best team in the business. Everything they do is about bringing the best we have to our customers. They continuously strive for excellence and are recognized industry wide for their outstanding efforts. And we are happy to say that they tend to stick around.
Of course, sometimes things change and we do have opportunities to join the team at Beaver Truck Centre. If you don't see a job posting for what you're currently looking for, check back with us – we do have skilled sales, parts and service positions open from time to time.
The opportunities that most often come up are for truck repair and maintenance technicians because they represent almost 50% of our team. They are a vital part of what we do. Our customers rely on them – to keep them operating, and to keep them operating safely and efficiently. There is no room for anything other than exceptional service. Our technicians are highly trained professionals, some of whom have won international awards for their expertise.
If you care about doing a great job and want to work in an environment where your contributions are valued, we encourage you to consider Beaver Truck Centre. As a part of our team, you can expect:
to work with the highest ranking products in the transportation industry
to work in a supportive team environment
to work in a professional , well equipped state of the art facility with the latest diagnostics capabilities.
ongoing training opportunities so you can excel at what you do
Apprenticeship training and tuition assistance
Company RRSP contributions
Apprenticeship Benefits
At Beaver Truck Centre, we want our technicians to reach their full potential – this means helping them to achieve their professional goals from both a development and salary perspective. Beyond providing them with the specific technical training required to work on the products we sell and service, we also make sure they have the opportunity to easily participate in Apprenticeship training so they can work towards their journey-person designation.
Apprenticeship Manitoba covers the cost of tuition while employees attend the technical training. Employees of Beaver Truck Centre receive the support they need to complete the apprenticeship program through the assurance that their employment is secure. As they complete each level, we reward their commitment with pay increases. Over time, as their knowledge grows, they can pursue opportunities for supervision and management positions.
Contact us today at careers@beavertrucks.com  to check on any current positions that are available or to get more information on our Apprenticeships.
Join the Team!

Beaver Truck Centre is currently looking to fill the following positions on:
4th level Apprentice or Journeyman Technicians – Winnipeg & Brandon Locations. Call Howard for more info or email resume to link below.